This article covers the Nissan Datsun 240Z specification and dimensions. Below is a list of the overall Nissan Datsun 240Z Specifications. Also listed in the specifications is the Nissan Datsun 240Z dimensions. Our team has complied this specifications and dimensions information from various sources. The Datsun 240Z is a vehicle that was created by Nissan in the 1970s.
Nissan Datsun 240Z Dimensions

Overall Length:
13.57 feet
162.8 inches
4,136 millimeters
Overall Width:
5.34 feet
64.1 inches
1,630 millimeters
Overall Height:
4.20 feet
50.5 inches
1,283 millimeters
Wheel Base:
7.56 feet
90.7 inches
2,305 millimeters
Seating Capacity:
2
Nissan Datsun 240Z Specifications
Vehicle Weight:1,066 kg (2,350 lb)
Top Speed: 201 km/h (125 mph)
Turning Radius: 4.8 meters (15.7 feet)
Drivetrain Layout: Front Longitudinal Mounted Engine Rear Wheel Drive (FR)
Front Suspension Type: Independent MacPherson Strut TypeFront Suspension Spring: Coil Spring
Front Suspension Shock Absorber Type: Telescopic Double-Acting
Rear Suspension Type: Independent Chapman Strut TypeRear Suspension Spring: Coil Spring
Rear Suspension Shock Absorber Type: Telescopic Double-Acting
Drive shaft: Ball Spline
Rear Differential Model: R180
Front Brakes: Girling-Sumitomo S-16 Type Disc Brakes
Rear Brakes: Aluminum Drum With Fins
Fuel Tank Capacity: 60 L (15 7/8 U.S. Gal)
Steering Gear Type: Rack-and-Pinion
Steering Lock to Lock: 2.7
Nissan Datsun 240Z Specifications - Engine
Engine Model: Nissan L24
Engine Material: Cast Iron Block
Engine Type: SOHC Twelve Valve Inline-Six
Engine Displacement: 2.4 L (146 cu. in) (2393 cc)
Crankshaft Journals: Seven-Bearing Main Journals
Compression Ratio: 9.0 : 1 (with E31 Head) 8.8 :1 (with E88 Head)
Engine Redline: 7,000 rpm
Oil Pan Capacity: 4 L (4 ¼ U.S. Qts)
Oil Pump Type: Mechanical Distributor Driven
Fuel Pump Type: Mechanical Fuel Pump Camshaft Driven
Carburetors: Twin One Barrel Hitachi HJG46W SU-Type Carburetors
Carburetors Sizes: 44 mm (1.732 in)
Bore: 83 mm (3.268 in)
Stroke: 73.7 mm (2.902 in)
Horsepower (SAE): 151 hp at 5,600 rpm
Torque (SAE): 146 lb-ft of torque at 4,400 rpm
Cylinder Head Type: Aluminum Non-Cross Flow SOHC Twelve Valve
Camshaft Type: Mechanical Flat Tappet
Camshaft Material: Special Cast Iron
Camshaft Journals: Five Aluminum Bearing Journals
Timing Chain: Double Row Roller Chains (Crankshaft Driven)
Valves Per Cylinder: 2 ( 1 Intake and 1 Exhaust)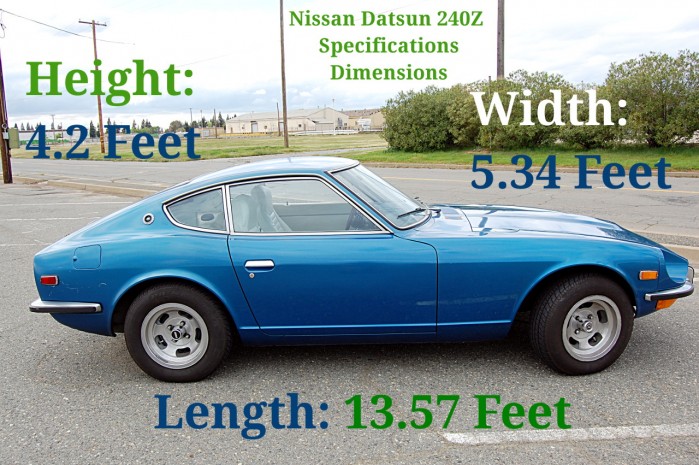 Above Datsun 240Z specifications and dimensions photo by EngineMark
To learn more about the Nissan Datsun 240Z visit the other pages here on EngineMark.