The Nissan Datsun 240Z is a two-seater sports car designed and produced by Nissan from 1969-1973. Development of the 240Z first began in 1961. The initial design of the car was done by Dr. Albrecht Graf von Goertz who also designed the BMW 507. Nissan originally was going to use a Yamaha designed inline-six engine in the Nissan Datsun 240Z, however, they believed that the engine design did not meet their standards. It wasn't until near the end of 1969 that Nissan finally had the production version ready for sale. Outside of Japan, Nissan used the name Datsun to sell its cars as a way to protect its name in case their cars were not received well by the public in foreign markets. The marketing name of the 240Z in Japan was also different, as it was being called the Fairlady Z in Japan. Yutaka Katayama CEO of Nissan U.S.A felt the name was not appropriate for the United States and other foreign markets. So the name 240Z was used, which is a reference to the displacement of the engine, 2.4 liters. The Datsun 240Z went on sale in October 1969 as the 1970 year model. The 240Z came equipped with a 2.4 liter Single Overhead Cam (SOHC) inline-six engine with either a manual or automatic transmission. Suspension wise, the Datsun 240Z had a fully independent front and rear strut type suspension. The Datsun 240Z has disc brakes up front and drums brakes in the rear, which was standard on all year models of the Nissan 240Z. The Datsun 240Z had great success throughout it productions, with Nissan struggling to keep up with demand. This was in part due to the low price point and the excellent performance and handling of the car. The Datsun 240Z went on to win four S.C.C.A C Production race championships, proving itself as a true sports car that was able to match the performance of cars with higher prices.
You can learn more about the Nissan Datsun 240Z here on the site by visiting the other articles in our Datsun 240Z section (arriving soon).
Also note that the official name of the Nissan Datsun 240Z is the Datsun 240Z in the United States and other markets.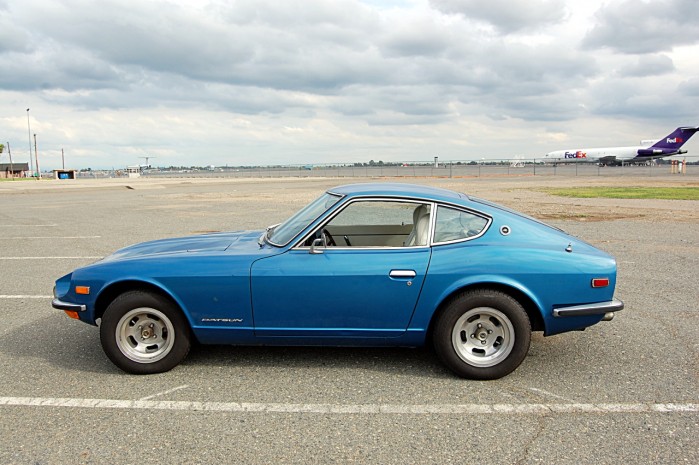 Above Nissan Datsun 240Z photo by EngineMark.