Today, EngineMark launched its first product, the EngineMark Window Scraper, a window scraper tool optimized for window tinting and cleaning companies. After months of research and development, the entire EngineMark team is proud to announce that the product is now available for purchase on EngineMark's online store.
The company's Engineering team worked in coordination with our Marketing team to develop an innovative window scraper that would help anyone scrape and clean a window with more comfort and ease. EngineMark received direct feedback from those involved with the window tinting industry as part of the development of the product.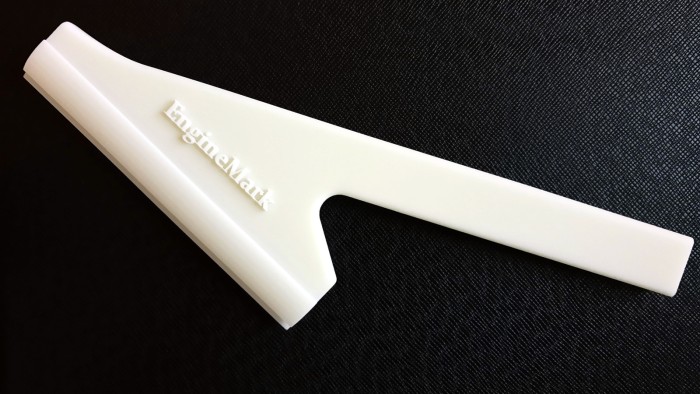 Above: The EngineMark Window Scraper Tool.
Product Features
EngineMark Window Scraper's unique shape and scraping angle allows window cleaners and tinters to scrape windows more effectively as the tool can be maneuvered at different angles with ease. In addition, the glass scraper uses standard 6-inch blades that are popular with those involved in the window tinting and cleaning industries.
Where to Purchase
The tool can be purchased directly from EngineMark online from the recently launched EngineMark Store.
EngineMark's CEO, David Aughinbaugh II, had the following to say about the launch, "It is an exciting day for EngineMark as we launch our first product. The team worked countless hours to develop and bring to market the EngineMark Window Scraper. I look forward to working with the team during the launch phase to showcase our product to window tinters and cleaners."
For more information about the Window Scraper Tool or EngineMark, please reach out to the EngineMark Marketing team.
EngineMark Marketing
Email Us Here
+1 (307) 423-0746